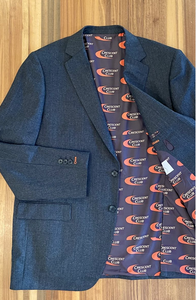 All W&L products are made for all, men, women, non-binary alike.Not only are William & Lauren jackets made to your unique measurements, they are made using top quality pieces and construction. If you are unsure how to style the jacket, we recommend the following: Single-2 button, notched lapel. Or design it exactly how you want it. If you want something specific you do not see listed, contact us and we will let you know if we can do it or not.
Fabric: 100% Wool- Super 100s and up
If we don't have your measurements, follow our instructional video here to add your measurements to your profile.
Customer Reviews
05/24/2021
Robert M.

United States
Service and product are stellar
I'm certain that the high quality of service is what impresses you most upon your initial meeting. But long after those days are memories you will be left with a quality product gaining you compliments and smiles time and time again. I'm no stranger to purchasing menswear and this entire experience (service, price, quality, and wear) ranks at the top. Lauren guides you just enough, but let's you make some decisions that give your piece a unique flair.
04/22/2020
Alex K.

United States
Highly Recommend for Custom Menswear
Fantastic experience, fantastic fit - I would recommend this to any man looking for a custom suit, blaze, or pants.
03/31/2020
Scott C.

United States
Perfect Fit & Exceptional Quality
I got my first sport coat and suit from William & Lauren. Both are a perfect fit, and I am so impressed with the quality. I have ordered from other custom suit makers in the past, and my experience with William & Lauren far surpassed the quality of the previous companies. I'll be ordering more in the future!