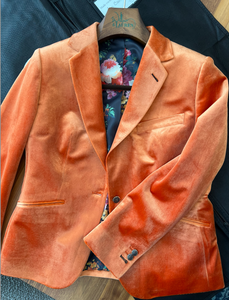 Not only are William & Lauren tux's made to your unique measurements, they are made using top quality pieces and construction. If you are unsure how to style the tux, we recommend the following: Single-1 button, peak or shoal lapel, no pleats, no cuffs, and 2 back pockets with no buttons. Or design it exactly how you want it. If you want something specific you do not see listed, contact us and we will let you know if we can do it or not.
Fabric: 100% Wool- Super 120s and up
If we don't have your measurements, follow our instructional video here to add your measurements to your profile.